Okey a long day about to be over. I'm sick of politics at the moment and too tired to think too deep, so let's talk sports and NBA since I listed it as an interest on my profile. For the record, I'm an NBA fanatic and I watch 1 to 2 games every day. So allow me to bore you with my personal fascination.

This NBA season has been like a roller coaster ride. I was disappointed about myself not even being close with predictions, while I thought I knew something about the league. I'm staring at the standings as of today and I said Wow! .. What were the odds for what I'm seeing!

Who would've thought the teams in the western conference finals last year wouldn't make it to the playoffs this year? Okey, I invested a lot in Kobe, but it was pretty obvious from the start that the Lakers are a bad team this year. But Minnesotta! They've got the same roster as last year, yet they sucked this year. Poor KG. Of course Cassel and Spree are whinning about their contracts, but again, who would've thought?

Speaking of same roster, let's take Seattle. I thought they'd make the playoffs from the beginning, but I didn't think they'd be this good. Obviously they're on a 6 game losing streak and slow momentum into the playoffs, but that team has two stars, and more importanlty, role players who know what they're supposed to do, as it turned out.

Phoenix ... Who would've thought they'd get 59 wins (as of today) this season? Not only that, they're also an exciting team to watch. Damn they run. No defense, so they won't get my vote (my prediction might be proven wrong once again). Nash will get my MVP vote though.

Who would've thought the trademark Sacramento Kings team would be disassembled like that? And who would've thought C-Webb's impact on the Sixers is not what it's supposed to be?

Who would've thought that Grant Hill would actually play a full season (sort of) of 67 games? He's hurt again. I hope he's alright and will be back next year.

Who would've thought Indiana would be contending for home-court advantage after all what they've been through? I mean they played with only 5 players in a game, each 48 minutes! Let alone suspensions and injuries.

Now my favorite. Those baby Bulls! Wow where did they come out from? No superstars. Team effort, good coach, good point guard, and a good rookie. Finally the rebuilding process has paid off. I really hope my team's rebuilding process doesn't take as long. Not only did they make the playoffs, but they're holding home-court advantage as of now. Even though I'd love to see Miami rule the East, but I'll root for the Bulls as well just for the heck of it. Yestahlon.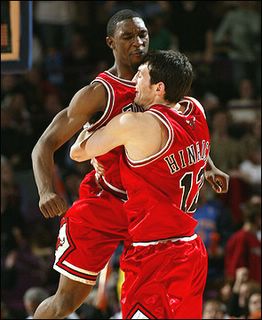 This is the first time those baby Bulls make the playoffs since the last time these three fellas were in town in 98.

Miss those days!